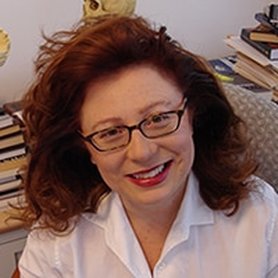 (Photo from TriTech Forensics Training)
Perlmutter is a conservative activist and self-appointed expert in ritual and occult crimes. She has written on the parallels that exist between Satanism and terrorism in a piece entitled "Skandalon 2001: the Religious Practices of Modern Satanists and Terrorists." Here is an excerpt from this embarrassing excuse for a piece of scholarship.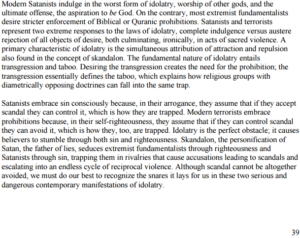 Perlmutter's academic credentials are in art history. She holds a PhD from NYU and an MFA from American University (more on her academic background below; spoiler: there's nothing in her academic background that qualifies her to speak on forenics, criminal justice, Satanism, etc.).
Dissertation: Graven Images: Creative Acts of Idolatry: A Hermeneutic Study of the Relevance of Theological Proscription of Image-making in Judaic Law to Contemporary Jewish Art and Artists (1993)
Advisor: David W. Ecker (art, art history, aesthetics)
Current Employment: Tritechforensics Training Division
About Dawn Perlmutter (from site above)
Dawn Perlmutter, Ph.D., Director of the Symbol Intelligence Group is considered one of the leading subject matter experts (SME) in the areas of symbols, symbolic methodologies, unfamiliar customs and ritualistic crimes. In her SME capacity, she routinely provides law enforcement investigators, defense and intelligence agencies with specialized information to assist in operations, investigation and analysis. She has advised police departments and prosecutors offices on numerous cases of ritual homicide and presented expert witness testimony on ritualistic crimes.

Dr. Perlmutter is an adjunct Professor in the Forensic Medicine Program at Philadelphia College of Osteopathic Medicine. She is the author of two books, Investigating Religious Terrorism and Ritualistic Crimes and Symbols of Terrorism as well as numerous publications on ritual violence.

Dr. Perlmutter has been interviewed for many documentaries, newspapers and newscasts. She holds a Doctor of Philosophy from New York University and a Masters Degree from The American University, Washington, D.C. Dawn Perlmutter is an active member of The American Investigative Society of Cold Cases (AISOCC) and The Vidocq Society, an exclusive crime-solving organization that solves cold case homicides.
Perlmutter teaches a course on Ritualistic and Occult Crimes Investigation The following is from a description of this course:
Ritualistic and Occult Crimes is a comprehensive workshop designed to provide public safety, crime scene analysts, and law enforcement professionals with an extensive understanding of crime scenes containing symbolic and unfamiliar evidence. Investigators will be introduced to the types of crimes most often associated with occult activity, crime scene clues, investigation strategies, and an overview of active groups. Crime scenes, forensic and symbolic evidence involving the ritual practices of Satanism, Santeria, Voodoo, Palo Mayombe, and the Goth, Vampire, and Fetish Scenes will be presented. Crime scene and autopsy images will demonstrate forensic and symbolic evidence specific to particular groups. Case studies include ritual sexual abuse, animal sacrifice, and numerous ritual homicides.