Known Aliases:
David Sarikaya
David Kaye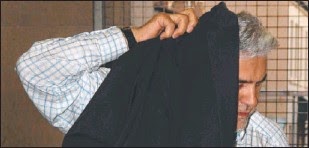 Overview
Ali Davut Sarikaya does not fit the bill of the typical conspiracy therapist. Grey Faction initially took interest in Sarikaya shortly after the announcement of speakers for the ISSTD's 2020 annual conference, in which he is listed as a speaker under the alias David Sarikaya.
Multiple articles [1, 2, 3, 4] provide a laundry list of the fraudulent activities and professional misrepresentation of Sarikaya. According to The Sydney Morning Herald, Sarikaya, who was born in Turkey, was convicted of using deception to obtain money from the Victorian WorkCover Authority in 1997. He refused to pay judgement debt and costs, and was bankrupted as a result. After this conviction, Satikaya began using the alias Dr. David Kaye. It was discovered during a police raid in 2009 that he had purchased a PhD online from the American College of Metaphysical Theology for $249.95. Shortly after in 2010, Sarikaya was charged with 20 offences including fraudulent use of New South Wales (NSW) Medical Board and NSW WorkCover Authority letterheads, and fraudulently using officer signatures. In the same year, Sarikaya was charged by a WorkCover authority for falsely submitting invoices that fraudulently represented him as a psychiatrist. Later in 2012, Sarikaya was appointed to the NSW Bar Association's Professional Conduct Committee, but was later asked to resign once his past and identity were discovered.
In 1999, Sarikaya had opened trauma clinics in Sydney and Melbourne, Australia. He had several advertisements stating he was "a specialist clinic conducting assessment, treatment and management of psychological trauma and related disorders and has been operating since 1999. The staff consist of trauma counsellors, psychologists, psychiatrists and a number of other health professionals to provide a broad range of psychometric testing, assessment and management of psychological injuries, including work related injuries and injuries resulting from motor vehicle accidents."
In 2007, Sarikaya was appointed the position of "Official Visitor" for NSW Health. This allowed him to visit psychiatric patients in hospitals. He withdrew once questions were raised about his credentials. Also in 2007, he opened Parramatta Trauma Clinic.
In 2016, the NSW Health Care Complaints Commission investigated Sarikaya's professional conduct, and released a public statement on October 10, 2016 which affirms "The Commission's investigation found that Mr Kaye has no formal qualifications in psychology or counselling." On October 18, 2016, the NSW Health Care Complaints Commission released Prohibition Orders Imposed which provides the decision that Sarikaya had breached the Code of Conduct of Unregistered Health Practitioners in that he had:
Misrepresented himself as holding university qualifications in psychology and counselling. Specifically Mr Kaye misrepresented himself as holding a Bachelor of Arts with honours, a Bachelor of Arts with a major in Psychology and a Graduate Diploma in Counselling Psychology. Mr Kaye also used the title 'doctor' and the post-nominal PhD when providing counselling services to clients in circumstances where he did not hold a PhD  from an accredited institution or in counselling. Mr Kaye made these representations through his use of his CV, letters, reports, business cards, emails and through verbal advice to a client and others.
Provided counselling services to a client in circumstances where he did not hold the appropriate qualifications. The investigation found that Mr Kaye did not hold any qualifications as the required level to provide counselling services to any clients.
Education
Importantly, the NSW Health Care Complaints Commission decision states:
"David Kaye was also prohibited from representing to any person or organisation that he holds university qualifications in mental health, including psychology or counselling, until evidence is provided to the Commission that satisfies it that he has attained such qualifications."
Outcome
David Sarikaya was abruptly removed from the ISSTD 2020 Annual Conference speaker's list after a Grey Faction complaint.