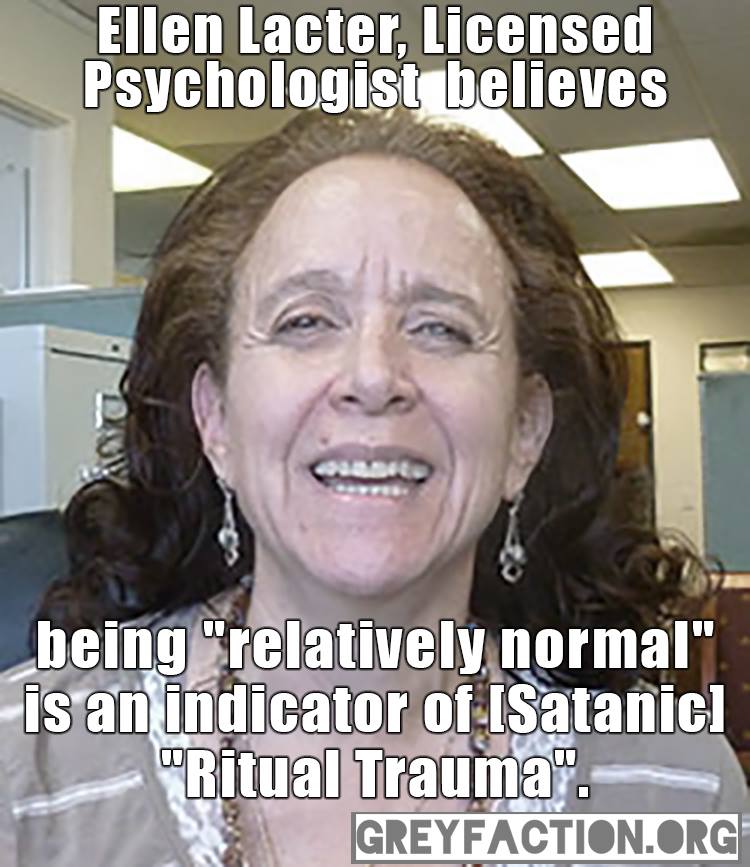 In private practice and on the faculty of the University of California San Diego - Extension.
Operates the End Ritual Abuse web site.

Former head of the ISSTD's "Ritual Abuse/Mind-control Special Interest Group."

Lacter actively propagates bizarre, delusional claims regarding Satanic cult conspiracies and "witchcraft abuse."

Ellen Lacter was consulted by Gigi Jordan prior to Ms. Jordan killing her 8-year old son Jude Mirra under the delusion that she was preserving him from future Satanic abuse.
From the Grey Faction report of the Gigi Jordan case regarding Ellen Lacter's role in the death of Jude Mirra:
A look at Ellen Lacter's website clearly reveals that she would be the last person to disabuse anybody of paranoid delusions related to Satanic conspiracies.
On the homepage of endritualabuse.org, one finds a wealth of information related to "mind control", "ritual abuse", Satanic cults and "Witchcraft Abuse". Her recommended reading list contains such heady titles as,Other Altars: Roots and Realities of Cultic and Satanic Ritual Abuse and Multiple Personality Disorder; and apocalyptic titles such as, Mind Control, World Control. Her site also includes instructions for ordering a book titled, Thanks for the Memories, The Truth Has Set Me Free, by Brice Taylor, one of the most outrageous tales of conspiracist delusion ever penned. Both Ellen Lacter and Brice Taylor have presented at annual conferences for an organization known as S.M.A.R.T. (Stop Mind-control And Ritual abuse Today). S.M.A.R.T. conferences discus such pressing current mental health issues as dissociative disorders brought on by Freemason, Illuminati, and Satanist ritual abuse activities, as well as government mind-control plots. When I attended a S.M.A.R.T. conference in 2009, I noted a sales booth offering a "more advanced species of tinfoil hat," [21] baseball caps lined with a metallic fiber weave meant to block electromagnetic transmissions. I also observed a speaker by the name of "Royal", at all of about forty years of age claim that she was a personal slave to nazi doctor Josef Mengele.
"My experience with Mengele", Royal explained in a lecture (the gist of which was that Satan uses abortion as a means of traumatic mind-control), "involved much of the trauma-based mind control involving core programming (such as End-Time programming) that is connected to the global take over. He used the Psychic/Spiritual dimensions using, what I have come to call 'demonic harmonics', which involves using musical tones and quantum physics to open up portals into the spiritual realms. I also have core programs set up that were created using abortions as a means to develop them and more." (It's also worth noting that a current member the ISSTD's Board of Directors, Adah Sachs, was presenting at this carnival of lunacy.) [22]
In Thanks for the Memories, Brice Taylor claims to have recovered memories, following an automobile accident, which revealed to her a hidden past of government mind-control in which she was programmed to act as a sex slave for distinguished people of power. According to Taylor, the late comedian Bob Hope acted as her primary keeper during her enslavement, in which time she was made to provide carnal comforts to world leaders and famous entertainers, from Elvis Presley to Neil Diamond. Among Taylor's rambling list of absurd claims is the charge that she was made to participate in the filming of dolphin porn directed by Sylvester Stallone, for the amusement of then-president Ronald Reagan:
"Another auxiliary project, one that brought in proceeds, was dolphin pornography. Dolphin porn was filmed in Malibu and in the dolphin tanks at Point Mugu. It was convenient because they had cages already built and so the dolphins could be housed there for use almost anytime. [Ronald] Reagan really loved the dolphin stuff. He watched a porn video of [my daughter] Kelly and I with a couple of dolphins. During the viewing he smiled, patted my leg and said, "I'll be with you later." He wasn't into sex with children and didn't have sex with my daughter. When the film was over he said, "Watching you do underwater ballet is beautiful, but seeing you with the dolphin is out of this world!" He laughed and looked up, like he was seeing a missile or shuttle launch. Lots of dolphin porn was filmed. I believe Bob [Hope] gave copies of it to Prince Charles, Prince Phillip and Margaret Thatcher, who is a lesbian." [23]
But if one were to conclude that Ms. Lacter were a New World Order conspiracist, she points out, in one interview, that she doesn't believe in the lunatic theory of some single, all-powerful force of evil conspiring to rule the world: "I believe that there are a number of different organized groups that all have the agenda of ruling the world. There's the Satanic network, and I don't believe that that is all networked, there's the witchcraft network," etc. [24] In fact, "They" are everywhere, and they are all masters of trauma-based mind-control.
By Lacter's reckoning, "there's probably well over a thousand children being abused horribly in cult practices here [in San Diego] and I don't think San Diego is worse than any place else." [25]
Naturally, these cults revel in infant sacrifice, sometimes going after babies that are in utero to satiate their bloodlust: "[…] they'll force the delivery early so seven or eight months gestation and that baby will be sacrificed and then that person will be programmed [by way of mind-control] to believe that she just had a miscarriage," [26] however, Lacter continues, "a lot of the children who are sacrificed in rituals are brought in from third world countries." This, apparently, explains the lack of evidential corroboration for Lacter's outsized claims of ritual sacrifice activity.
In fact, there is no credible evidence for Lacter's claims at all, only the "recovered memories" of mistreated clients in DID therapy, and the lunatic claims of her associates, like Brice Taylor. But the absence of evidence, according to Lacter's extremely deluded narrative, is merely evidence of the insidious power these cults wield. Having established themselves at every level of society, They secretly manipulate the unwitting public to prevent the truth of their existence from surfacing: "Most of the perpetrators of the most organized abuse never get arrested and they raise their kids to have jobs in law enforcement. They raise their kids to have jobs in child protective services and the District Attorney's offices, etc. So they have their own network established in the institutions to erase records to disbelieve these reports. They have a very organized never-let-it-come-out campaign." [27] Naturally, the media has been infiltrated as well: "The most organized groups have raised some of their children to be reporters who definitely write articles saying none of this is true, these therapists are crazy, these survivors are victims of their therapists putting memories in their minds. So the media is very influential and is one of their main ways of keeping the truth from being exposed." [28]
Perusing Lacter's material, one gets the distinct sense that she has never been approached with a claim too deranged or schizophrenic for her to doubt the teller's sanity: "Ritualistically abused children and adults are usually misdiagnosed for years as psychotic and delusional, due to their reports of hearing voices and extreme state of fear. The voices belong to dissociated personalities and to spirits and demons they perceive as having been attached to them during ritual ceremonies."
This is the therapist that Gigi Jordan sought for consultation when apparently at the height of her paranoid delusions of Satanic cult persecution; Ellen Lacter, who, acting under licensed professional mental health sanction, purveys conspiracist notions to the potentially mentally vulnerable. Had Gigi Jordan put her trust into a sane, rational, mental health professional at this critical time in this tragic story, perhaps Jude might still be alive today.
And it gets worse, the shame upon the mental health profession is more profound still; Ellen Lacter can occasionally be found speaking at professional conferences for mental health professionals in which her convoluted conspiracism enjoys peer acceptance. She is but one in a fringe community of therapists, social workers, and counselors, who presume to see evidence of Satanic mind-control in their susceptible clients. It is not uncommon that such conspiracy-based conferences, purveying theories of Satanic abuse, government mind-control, and recovered memory therapies, offer Continuing Education Units to licensed attendees in the field of mental health care.
Lacter is very guarded about her practice, and she did not reply to my inquiries regarding the services she provided in keeping Jude "safe" and "helping him psychologically." It is my contention, however, that the very licensure of one as flagrantly deranged, mentally incompetent, and in obvious need of psychiatric care as Ellen Lacter is herself, is indicative of a system of mental health care that is in desperate need of massive reform.