MA, Marriage and Family Therapy (1998) | Alliant International University
PsyD, Clinical Psychology (2001) | Alliant International University
LICENSES 
Psychologist (license no. #22278) | California
Marriage and Family Therapist (license #37949) | California
EMDRIA Certified
Equine Assisted Psychotherapy Certified
EMPLOYMENT
2009 - Present: North County Health Services, San Marcos/Encinitas/Oceanside, CA
2002 - Present: Private Practice | Chula Vista, CA
AFFILIATIONS
International Society for the Study of Trauma and Dissociation (ISSTD)
ISSTD RAMCOA/OEA SIG (and ISSTD 2021 President)
Blue Knot Foundation
California Psychological Association
San Diego Psychological Association
Psi Chi National Honors Society in Psychology
Approved EMDR Consultant
Pre-Perinatal High Risk Psychologist
PUBLICATIONS
Cortizo, R. (2019). The Calming Womb Family Therapy Model: Bonding Mother and Baby from Pregnancy Forward. Journal of Prenatal & Perinatal Psychology & Health, 33(3).
Cortizo, R. (2020). Prenatal Broken Bonds: Trauma, Dissociation and the Calming Womb Model.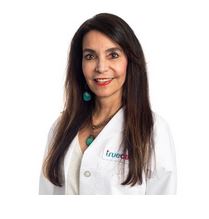 Why she is on our radar
Rosita Cortizo endorses conspiracy theories such as Satanic ritual abuse and ongoing CIA mind control experimentation. She also promotes pseudoscientific practices such as recovered memory therapy and created the "Calming Womb Family Therapy Model (CWFTM)," which "builds a strong early bond between mother-child from the point of conception." The CWFTM involves Eye Movement Desensitization and Reprocessing (EMDR) from early pregnancy through the first year of life to process "unresolved" maternal trauma and maternal transference reactions to the baby.
As revealed in the #ISSTDExposed leaks, Cortizo is committee chair of the International Society for the Study of Trauma and Dissociation (ISSTD)'s Organized and Extreme Abuse (OEA) Special Interest Group -- formerly known as the Ritual Abuse, Mind Control, and Organized Abuse (RAMCOA) Special Interest Group. Moreover, Cortizo was President of the ISSTD in 2021, providing yet another example of the ISSTD centering the conspiracism and pseudoscience exemplified by the OEA Special Interest Group.
In her own words
"I joined ISSTD because of the work of many of you on [the Organized and Extreme Abuse, formerly known as the Ritual Abuse, Mind Control, and Organized Abuse] listserv, and I want to thank you again. I am sure this will not be the last time I do so. This work is hard, relentless and incredibly taxing. Because of the work involved in Ritual Abuse and Mind Control treatments, we as clinicians need academic places to communicate. This SIG offers this clinical opportunity." (link)
"What an extraordinary opportunity it is for me to assist unborn babies who are too young to speak for themselves and to empower their moms to heal and transform their lives." (link)
"I use a combination of models and interventions including EMDR therapy, Family therapy, Psychodynamic psychotherapy with "in utero" bonding and developmental guidance approach, Sensorimotor Psychotherapy, Imaginal Nurturing, attachment repair work, relaxation-self soothing-grounding practices and bonding exercises before and after birth." (link)
In a thread by Alison Miller about proclaimed Satanic ritual abuse survivor (and Miller's former client) Wendy Hoffman's new book: "Wendy is one of my personal‐professional warriors. Her first book (along with Unshackled) is still vivid in my memory and I anticipate it will only become more so with the passage of time. Thank you for sharing with us her latest act of courage." (link)
Cortizo refers to complaints filed by Grey Faction against therapists promoting conspiracy theories of CIA/Illuminati mind control and QAnon-like Satanic ritual abuse as "cowardly" attacks: "Susan [Pease Banitt], you, Alison [Miller], and many other pioneers in this forum have been cowardly attacked and as a colleague I stand by you." (link)