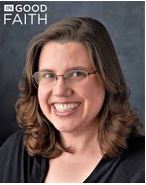 Why she is on our radar
Emily Marie Christensen is a licensed counselor who has been diagnosed with Dissociative Identity Disorder (DID). She has had her own private practice in Kansas since 2004 and also holds active licenses in Utah and Oklahoma. Christensen hosts a podcast called SystemSpeak under the pseudonym "Emma Sunshaw" and "Dr. E." On her podcast, Christensen routinely platforms and agrees with the conspiratorial and pseudoscientific musings of other conspiracy therapists, including Sue Pease Banitt, Warwick Middleton, Colin Ross, Ellen Lacter, and Neil Brick.
In addition, some questions have been raised about whether Christensen is presenting herself honestly.
In her own words
Christensen can be heard agreeing with the debunked statements regarding ritual abuse and mind control uttered by the conspiracy therapist guests on her podcast. We are not currently aware of quotable statements from Christensen which make similar claims, but they will be added to this section if and when we learn of them.