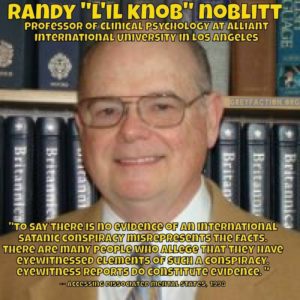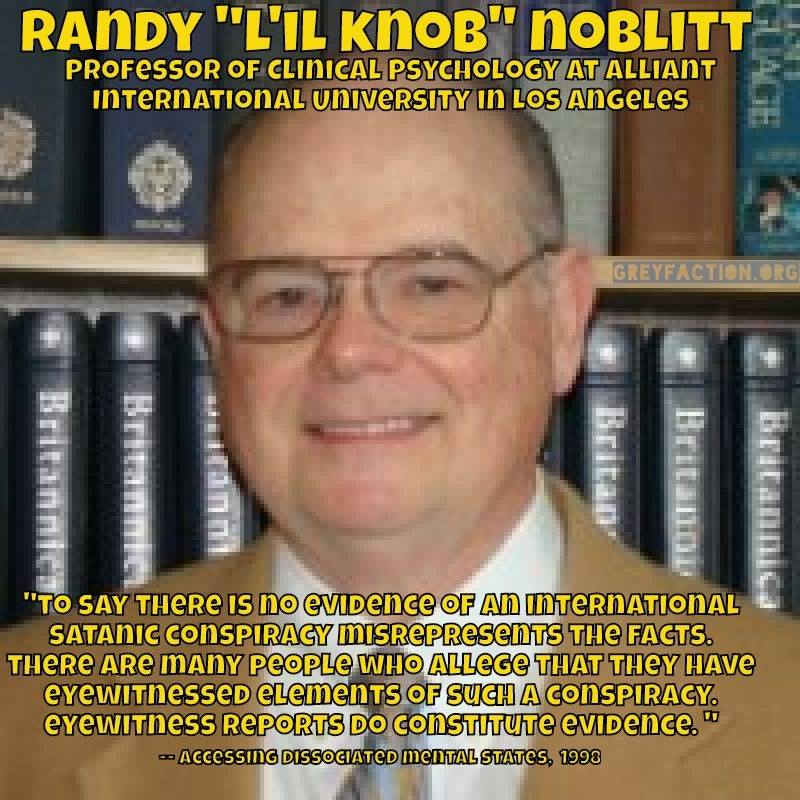 Randy Noblitt is a Professor of Clinical Psychology at Alliant International University in Los Angeles. A Grey Faction researcher encountered him at a recent luncheon for the ISSTD's "Ritual Abuse/Mind-Control Special Interest Group"

To be fair — when considering the "expert" qualifications of the perpetually panic-stricken Dr. Randy Noblitt — one should take into consideration that the man's doctoral thesis was, in fact, a work of Astrology. However, in a career made notable for unsubstantiated hysterical claims involving a preternatural conspiracy of Satan's minions, his dissertation upon the Celestial Concomitants of Human Behavior may possibly be the most lucid work in Dr. Noblitt's unquestionably disreputable bibliography.
I feel it important to make note of his dubious beginnings so one might recognize that this tin-foil hat Torquemada never, at any point in his professional career, seems to have become unhinged… he never exhibited a firm grasp of reality to begin with. Thus, when reading the barrage of lunacy attributed to "Little Knob" below, the question isn't: where did this professor of Clinical Psychology at Alliant University go wrong?, instead, the question should be: how is it that this man ever became a professor of Clinical Psychology at all? And, worse, How is it that his testimony, as a man of Science, was considered favorably in a situation where personal liberties were at stake?
In 1992, at the height of a social hysteria now commonly referred to as "the Satanic Panic", Dr. Noblitt — believing he could disentangle the coercive subliminal sounds of secret demonic code within popular music, as well as decrypt the hidden meanings behind seemingly mundane occurrences — testified for the prosecution, as an "expert" in the field of "ritual abuse", against one Fran and Dan Keller, a couple accused of engaging in child abuse at their home-based day care center. With no physical evidence to support the accusations (which included claims of graveyard rituals and medically undetected limb transplants) the couple was convicted on the most dubious of testimony. The children themselves — ignored when they claimed they were not abused at all (as happened even in testimony) — were led by coercive and incompetent interrogations to produce claims of abuse which are nearly impossible to credit [see footage and analysis of one such interrogation embedded below]. Noblitt's own fantastical testimony, of course, was no more credible than Noblitt himself.
The Kellers sat in prison for 21 years before they were exonerated.
Dr. Evan Harrington, Associate Professor at The Chicago School of Professional Psychology, wrote a stunning letter on behalf of the Kellers' appeal to the 14th District Court in Travis County, Texas, outlining the absurdities, shoddy methods, and scientific ignorance demonstrated by Dr. Randy Noblitt, concluding, "His opinions have been scientifically discredited, and are not shared by the vast majority of clinicians and researchers within the field of psychology." The letter, bearing signatures of support from various esteemed social and behavioral scientists, reveals a disturbing portrait of Dr. Noblitt as a delusional man obstinately oblivious to any and all facts that serve to disconfirm his paranoid theories. The letter is a damning indictment against the institutions that would recognize such a clearly problematic character for an "expert". The letter further raises grave doubts regarding the credibility of Alliant University, where Dr. Noblitt serves on faculty, still purveying the irrational narrative of a long discredited, thoroughly debunked hysteria.

The Power of Suggestion: Video interviews of Frances Keller and psychology professor James Wood, by The Austin Chronicle
Dr. Randy Noblitt explaining in a flat humdrum tone (while occasionally giggling) how Satanists utilize music in their mind control tactics.