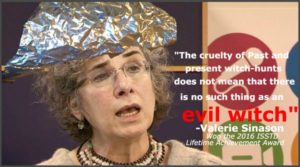 Valerie Sinason was instrumental in spreading Satanic Panic throughout the UK. She was the recipient of the ISSTD's 2016 Lifetime Achievement Award. She founded the Clinic for Dissociative Studies in 1998, and served as its director until 2017. Her personal web site can be found here.
---
The International Society for the Study of Trauma and Dissociation (ISSTD) has come under increasing public scrutiny and ridicule for its continued advocacy of long-debunked therapeutic practices related to "recovered memories" and hypnosis (the very stuff of "past-life regression" and "alien abduction" claims), and its maintenance of a conspiracy-based "Ritual Abuse/Mind-Control Special Interest Group" within its official organizational structure. Recently, it was revealed that the ISSTD point-person for the Ritual Abuse/Mind-Control Special Interest Group, Ellen Lacter, was in consultation with a woman named Gigi Jordan shortly before Ms. Jordan murdered her own 8-year old child under the delusion that she was preserving him from future sufferings at the hands of an imaginary Satanic conspiracy. A look at Lacter's website offers a disturbing look into a delusional mind, where conspiracies of preternatural (or supernatural) evil lurk around every corner, at every level of society. That Lacter should enjoy professional Mental Health licensure — opening the possibility that she may spread her conspiracist paranoia to the mentally vulnerable (as one might reasonably speculate occurred in the case of Ms. Jordan) — provoked enough outrage that a petition to have Lacter's licensing status reconsidered gathered over 1500 signatures in about 3 weeks. As the petition gained momentum, the ISSTD silently removed Lacter's name from their website, yet the Ritual Abuse/Mind-Control Special Interest Group remains.
The backlash against the ISSTD has sometimes been met with disbelief. The Satanic Panic, recovered memory therapies, Multiple Personality Disorder… all of these things have been laid to rest long ago, and the ISSTD is a large organization with a significant number of licensed mental health practitioners. Surely, a few "bad apples" like Ellen Lacter aren't indicative of the organization as a whole? Let's put aside the fact that the ISSTD was co-founded by the infamous Bennett Braun who, in 1999, had his license suspended after a client filed suit alleging that he'd "falsely made her believe she engaged in satanic rituals, cannibalism and baby killings–even that she served as a high priestess of a satanic cult. In 1997, she was awarded $10.6 million to be paid by Rush-Presbyterian-St. Luke's, which didn't admit wrongdoing in the civil case." Let's further ignore that the ISSTD's list of past presidents and board reads like a Who's Who of Satanic Panic-mongers from the anti-Dungeons & Dragons and Heavy-Metal-backward-masking scare. Let's objectively consider that most of this lunacy is far in the organization's past. Why, then, was the "Ritual Abuse/Mind-Control Special Interest Group" only official begun in the year 2008? Why was it that when I arrived outside of the ISSTD conference this past weekend, these were the types of books they displayed for sale?
And why is it that the recipient of their 2016 "Lifetime Achievement Award" is a notorious and discredited witch-hunter by the name of Valerie Sinason?
For those not aware, Ms. Sinason caused a scandal in the UK, making outrageous claims related to Satanic cult conspiracies, during the height of the anti-Satanist moral panic. When an official report commissioned by the department of health failed to find any corroborating evidence for any of Sinason's claims, it was also revealed that "Valerie Sinason and Rob Hale, who were leading critics of the report, had subsequently received £22,000 from the health department to document evidence of ritual abuse from the reported experiences of their patients." The department of health investigator "accused Ms Sinason of being 'out of her depth' and unable to produce any hard evidence for her beliefs. 'It's depressing to find someone who has a position at leading London hospitals who is so cut off from what research methodology is, and what rational evidence is.'"
In 2002, the Telegraph wrote of Ms. Sinason:
The anti-Satan lobby has also seized opportunistically on isolated crimes. Last September, the torso of a five-year-old black boy was found in the Thames. Valerie Sinason, a psychotherapist at St George's Hospital in London, told the press that the case bore all the hallmarks of a ritual murder. "Sadly, I do not think this is a one-off," she said.

Of course she doesn't. Miss Sinason […] is on the record as saying that Satanists are breeding babies for ritual murder, a practice she described to the Catholic Herald as "an Auschwitz in peacetime". Until now, not one body has surfaced to corroborate this theory, which explains why the ritual abuse lobby is so eager to claim the Thames torso for Satanism. But this, too, is nonsense. The little boy may have been ritually killed – but by an African witchdoctor harvesting body parts for the magical medicine known as muti. It has nothing to do with suburban devil-worship.
Optimistically, however, the author concluded:
Miss Sinason's claims are so implausible that they are unlikely to win much of an audience this time […] When Miss Sinason announces that she has "clinical evidence" of infanticide and cannibalism, she means that her patients have told her stories about them. The implication is that, because the suffering of these people is real, their "memories" must be accurate.
In 2011, The Guardian reported on the mystery of Carole Myers, a former patient of Dr. Sinason who came to believe she had been the victim of Satanic Ritual Abuse.
Sinason talks of a popular ritual in which a child is stitched inside the belly of a dying animal before being 'reborn to satan'. During other celebrations, "people eat faeces, menstrual blood, semen, urine. There's cannibalism." Some groups have doctors performing abortions. "They give the foetus to the mother and she's made to kill the baby."

"And the cannibalism – that's foetuses?" I clarify.

"Foetuses and bits of bodies."

"Raw or cooked?"

"The foetuses are raw."

"Not even a bit of salt and pepper?" I ask.

"Raw. And handed round like communion. On one major festival, the babies are barbecued. I can still remember one survivor saying how easy it is to pull apart the ribs on a baby. But adults are tougher to eat."
As recently as 2013, the deranged Ms. Sinason was again pushing Satanic Panic to a credulous media, attempting to attach Satanism to the Jimmy Savile sexual abuse scandal. As one author pointed out:
We definitely know that Savile is guilty of abuse and used his high position in society to gain access to the most vulnerable. We know this because hundreds of alleged victims and witnesses have come forward, each with similar stories. Out of these hundreds the only sign of "satanic ritual abuse" comes from Dr. Sinason, and she has not provided any evidence for the allegations. Instead they boil down to two stories her patients told her during psychotherapy sessions. Assuming these patients even exist (we've heard nothing directly from them), just because somebody supposedly said something in a therapy session does not make it true. Yet sectors of the media have swallowed Sinason's account hook line and sinker.
A dangerous and delusive demonizer, Ms. Sinason certainly isn't somebody with a lifetime of achievements worth celebrating. Is it inappropriate to judge an organization based on the awards it gives and Special Interest Groups it maintains? I think not. Until the ISSTD manages to divide itself from its lunatics and pseudoscientific practices, the best service it has to provide mental health consumers is its 'Find a Therapist' database, which will inform you of who exactly you should stay away from.